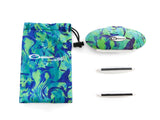 Gleener On the Go Travel Fuzz Remover Fabric Shaver (Limited Edition)
Smaller than a glasses case, the Gleener Mini is a must-have for last minute wardrobe touch-ups. 3 fabric-friendly edges eliminate pilling while an uber-handy lint brush dusts away pet hair and dandruff.
3 FABRIC-SAFE EDGES
No batteries, no razors, no holes in your clothes. Just 3 fabric-friendly edges (and an uber handy lint brush) that bring your favorites back to life!
Edge #1: Ideal for big & bulky pills like those found on heavy woolens, blends and synthetics.
Edge #2: Best for medium pilling like those found on cashmere, merino and finer wools. It also works great on fleece.
Edge #3: Revitalizes your summer knits, t-shirts, silk blends and ultra delicates by removing fine pills.
Did we mention that these edges are also interchangeable with the Full-size Gleener

 

Fabric Shaver & Lint Brush?
BUILT-IN LINT BRUSH
Picks up pet hair, dusts away dandruff and can be used to beautifully finish any de-pilling job.
TRAVEL-FRIENDLY DESIGN
Smaller than a glasses case, Gleener Mini fits in pockets, purses, glove compartments and carry-on luggage. It's also ingeniously designed to store the interchangeable edges inside. Bon voyage!
READY WHEN YOU ARE
Battery-free and easily portable thanks to the included travel pouch, you have all the tools necessary to save any fave.
KIT INCLUDES
Fabric shaver with integrated lint brush, 3 different edges, and storage pouch.
USE IT VIRTUALLY ANYWHERE, ON ANYTHING 
Gleener is so much more than a sweater shaver. From your wardrobe and upholstery to bedding and linens, the possibilities are endless.
Natural Fibers

Wool
Merino
Angora
Cashmere
Pashmina
Silk
Cotton

Synthetic Fibers

Acrylic
Rayon/Viscose
Polyester
Nylon
Spandex™, Lycra®  & Elastane™ Microfiber  Polyamide

Wardrobe

Sweaters
Coats
Pants
Skirts
Suits
T-shirts
Jackets
Scarves
Hats
Mitts & Gloves

Home

Sheets Blankets 
Cushions 
Chairs
Slipcovers
Sofas
Car Seats