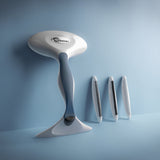 Gleener Fabric Shaver & Lint Brush
Save your faves.
From sweaters and suits to sofas and bedding, Gleener helps you get the longest life from your clothing, upholstery, and linens. The 3 different Fabric Safe Edges™ eliminate pilling, lint and pet hair from virtually all fabrics. Each edge is designed to gently revive a different type of fabric, from big and bulky, to medium, and delicate. The integrated lint brush picks up pet hair, dusts away dandruff and can be used to beautifully finish any de-pilling job. Extend the life of all your faves without the need for expensive and toxic batteries. Choose Gleener and feel good about buying less and making it last
3 FABRIC-SAFE EDGES
No batteries, no razors, no holes in your clothes. Just 3 fabric-friendly edges (and an uber handy lint brush) that bring your favorites back to life!
Edge #1: Ideal for big & bulky fabrics, such as heavy woollens, synthetics, and blends.
Edge #2: Best for medium fabrics, like cashmere, merino, and finer wools. It also works great on fleece. 
Edge #3: Revitalizes your summer knits, t-shirts, silk blends and ultra delicates.
BUILT-IN LINT BRUSH
Picks up pet hair, dusts away dandruff and can be used to beautifully finish any de-pilling job.
ERGONOMIC & BATTERY-FREE
Gleener's ergonomic handle with a soft over moulded grip makes de-fuzzing a cinch. Its' also battery-free, making the Gleener fabric shaver friendlier on your wallet and the planet, a win-win.
READY WHEN YOU ARE
Easily portable thanks to the included travel pouch, you have all the tools necessary to save any fave.
KIT INCLUDES
Fabric shaver with integrated lint brush, 3 different edges, and storage pouch.
USE IT VIRTUALLY ANYWHERE, ON ANYTHING 
Gleener is so much more than a sweater shaver. From your wardrobe and upholstery to bedding and linens, the possibilities are endless.
Natural Fibers

Wool
Merino
Angora
Cashmere
Pashmina
Silk
Cotton

Synthetic Fibers

Acrylic
Rayon/Viscose
Polyester
Nylon
Spandex™, Lycra®  & Elastane™ Microfiber  Polyamide

Wardrobe

Sweaters
Coats
Pants
Skirts
Suits
T-shirts
Jackets
Scarves
Hats
Mitts & Gloves

Home

Sheets Blankets 
Cushions 
Chairs
Slipcovers
Sofas
Car Seats